San Yu | Auction Market Personal Report
Artpro provides you with professional, comprehensive and in-depth market analytical report for free at present stage. Here is the personal analytical report of San Yu. Click "Get Report" at the end of this article to get the artist's data report.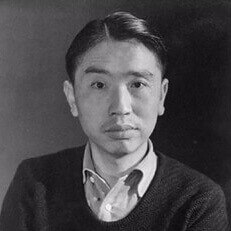 1901 - 1966
San Yu, a Chinese French artist, studied in France in 1921 and was familiar with Xu Beihong and Lin Fengmian.
With a painting style blending techniques from east and west, his works are characterized by smooth and straightforward strokes and are famous for nude women, bonsai and animals. He is known as "Matisse of the East". San Yu, originally named Chang Youshu, was born in a wealthy family in Sichuan Province in 1901. He was poor for most of his life and prospered in the market after death. In the past 20 years, San Yu's work has made great progress in the auction market, creating a round of "San Yu fever". His works include oil painting, watercolor, sketch, printmaking and sculpture, and his creation has gone through three stages: the period of the La Grande Chaumière (1920s), the period of pink (1930s-1940s) and the period of black (1950s). Works of different periods have different values in the auction market.
(1) In-Depth Observation of San Yu Market
1. 2010-2019:The turnover of works from Pink and Black Period is equal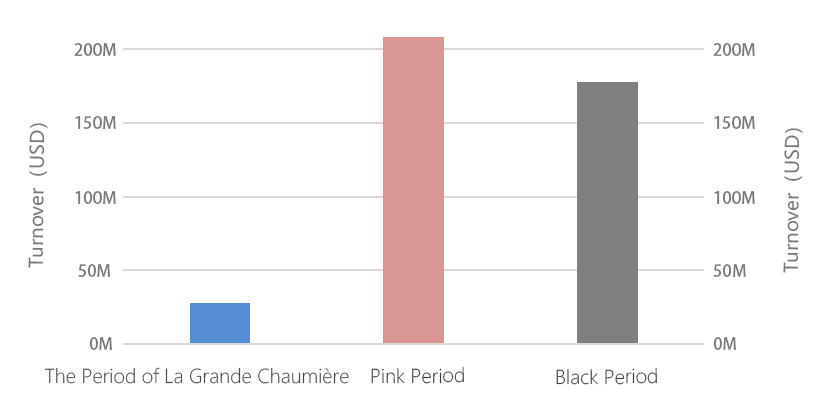 2010-2019:Turnover of works in different creative periods

2. 2010-2019:Over 50 pieces of works sold in the Pink Period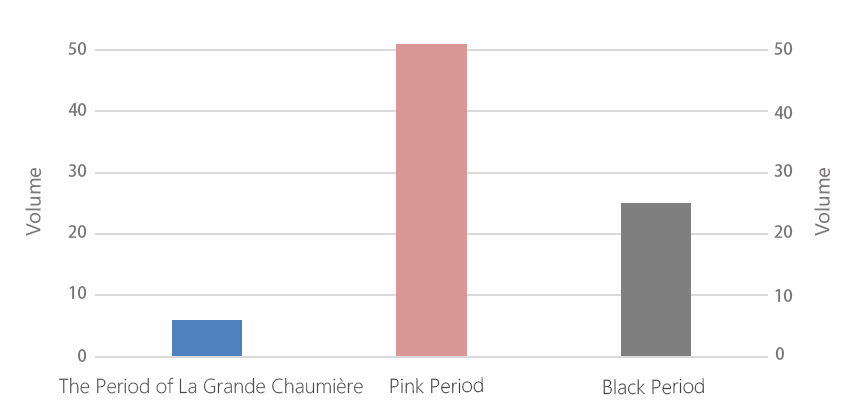 2010-2019:The number of works sold for over $1 million

3. 2010-2019:The highest average turnover of Top 10 works in the Black Period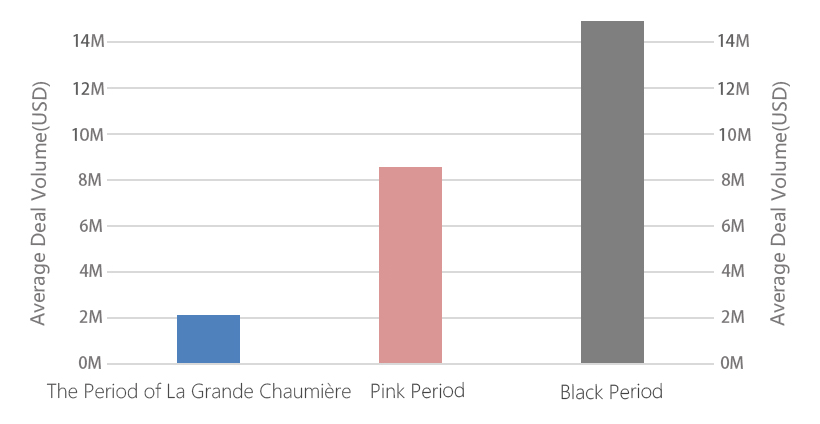 2010-2019:Average turnover of Top 10 works

4. From 2000 to 2019, the price index of works in Pink and Black Period has been rising continuously, and in recent years, the increase in Black Period is even greater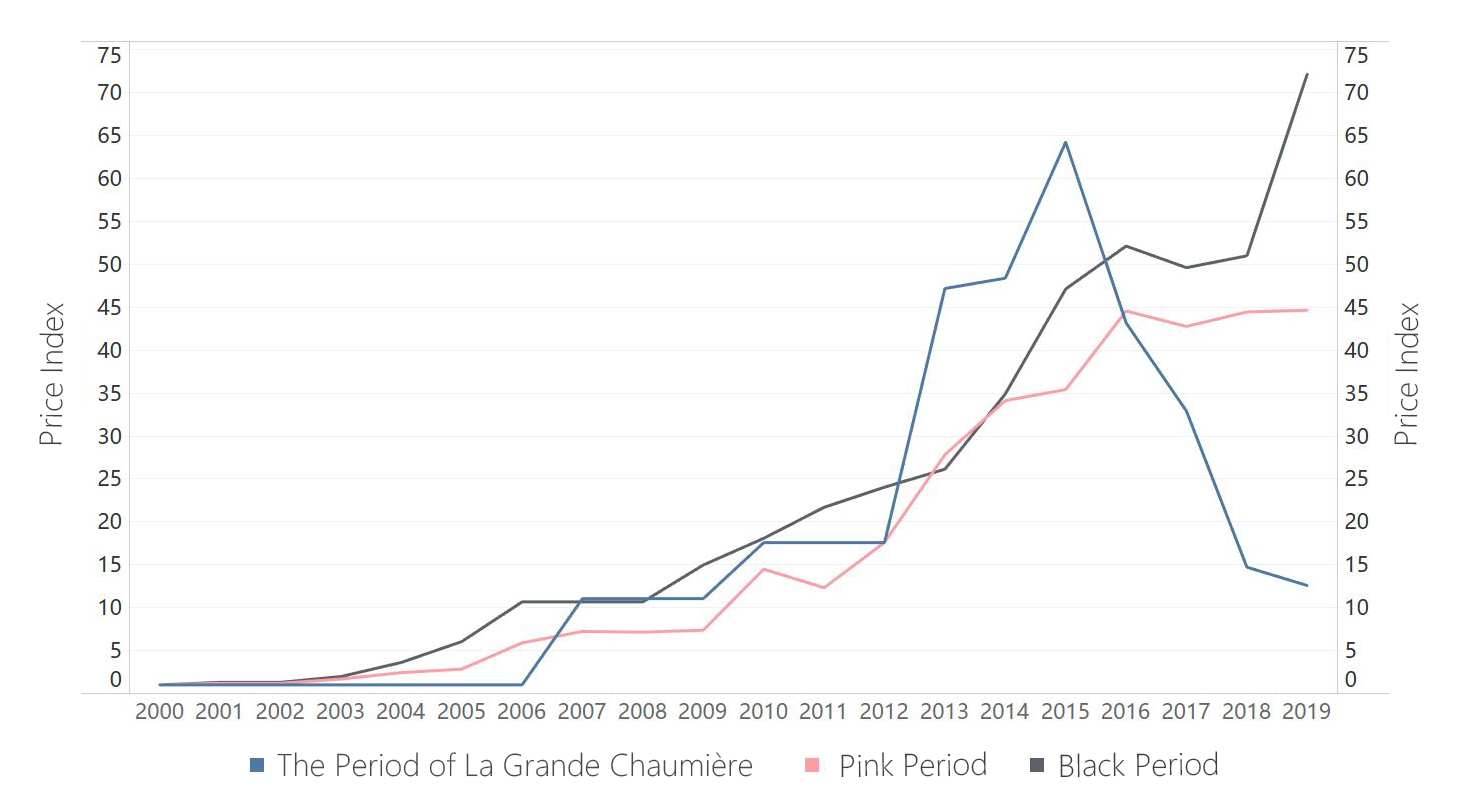 The price index of works in 2000-2019 (Note:price index is used to study the dynamic change of price)

5. Top 20 works list: 8 from Black Period, 12 from Pink Period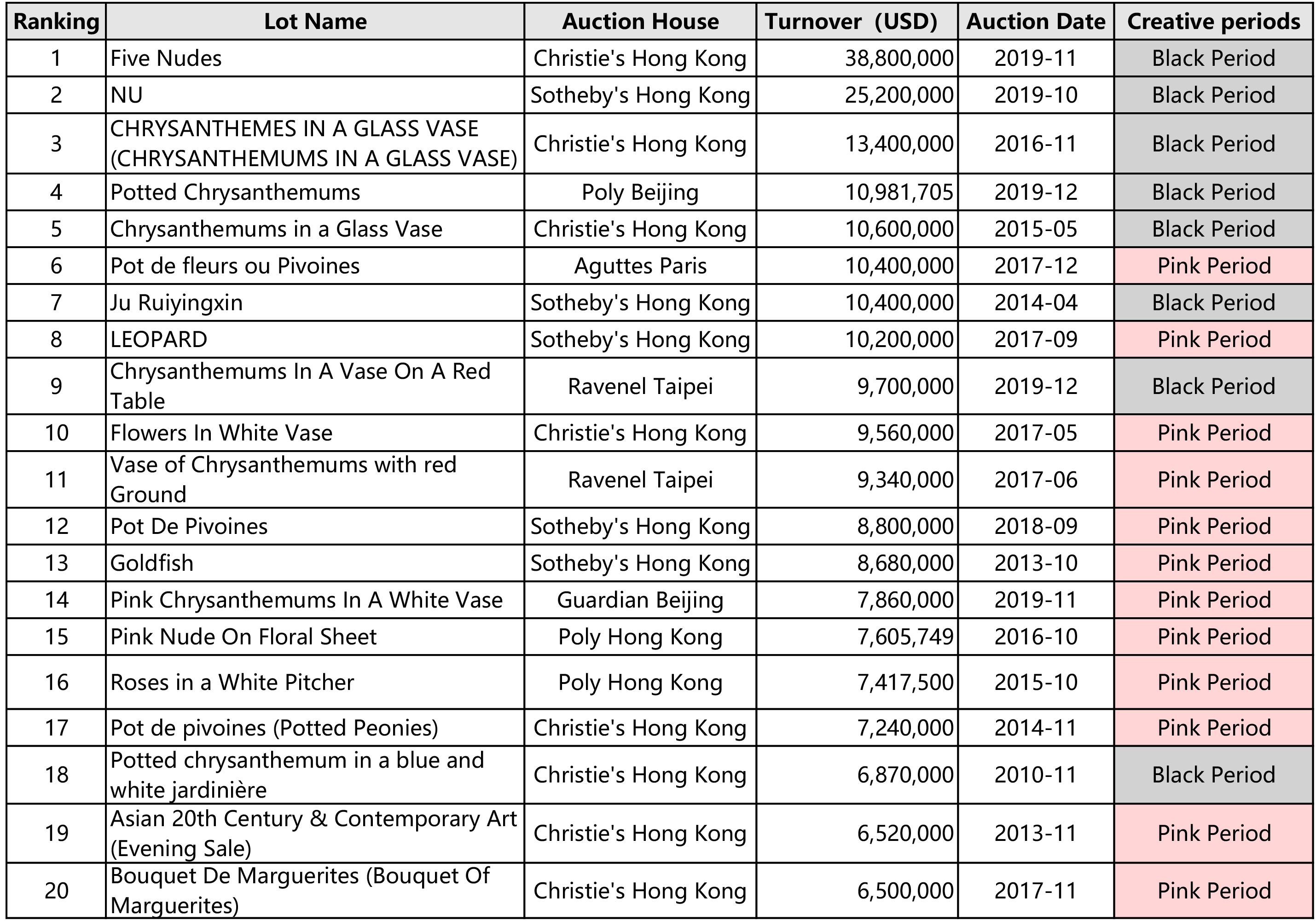 Top 20 works of San Yu

6. The works in different periods are repeatedly on auction, and annualized rate of return is amazing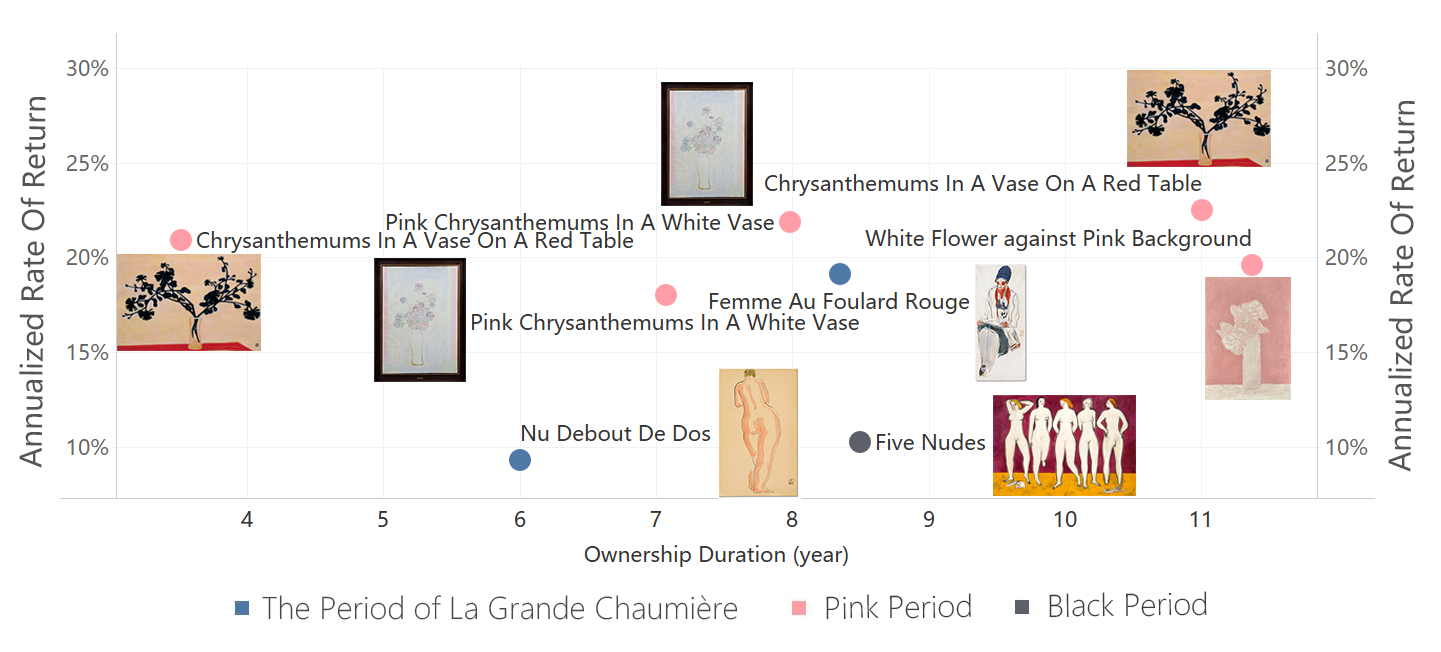 Some of San Yu's works which are on auction repeatedly and their annualized rate of return
The value of art is closely related to its creation background and style development. What kind of evolution has San Yu experienced in his artistic creation? Next, with the guidance of ArtPro, please focus on San Yu's creation track.
(2) Deep Analysis of San Yu's Creation Background

The three themes of San Yu's works are nude women, bonsai and animals - nude women are plump and fat, flowers are charming and proud, animals are lonely and desolate, and there are portraits of people, fruits and still life, etc.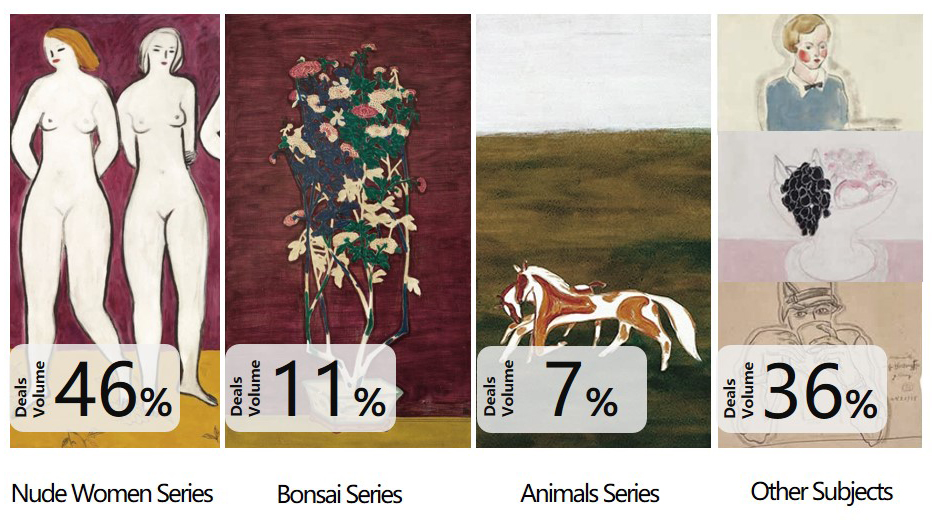 San Yu's Works with Different Themes and the Proportion of Deals Volume
In the 2010-2019 auction, the number of works with the theme of naked women accounted for a large number of deals volume, followed by potted flowers. And the works of the same theme created in different periods have their characteristics in types and styles.
1. The Period of La Grande Chaumière (1920s)

When San Yu was young, he studied painting with his father and calligraphy with Zhao Xi, a great scholar in Sichuan Province. He went to Japan in 1918 and studied in France in 1921. The superior family circumstances in his childhood shaped San Yu's unique personality to a certain extent. After he settled down in Paris, he chose to study western painting in La Grande Chaumière, which was different from the academic style and enable him to access the free modern sketch skill training. At this stage, San Yu's works are mainly sketches and watercolors, with a few oil paintings.
The combination of traditional Chinese brush and Western watercolor is a major feature of San Yu's artistic creation. Under the influence of cubism and abstractionism, he condensed his complicated and simple aesthetics into a naked woman with cosmic thigh, posture change and rhythm. From the perspective of data performance, the deal volume of works with the theme of nude women in the period of La Grande Chaumière accounts for a prominent proportion.
The deal volume of works with the theme of naked women from the period of La Grande Chaumière is the largest (mainly watercolor works)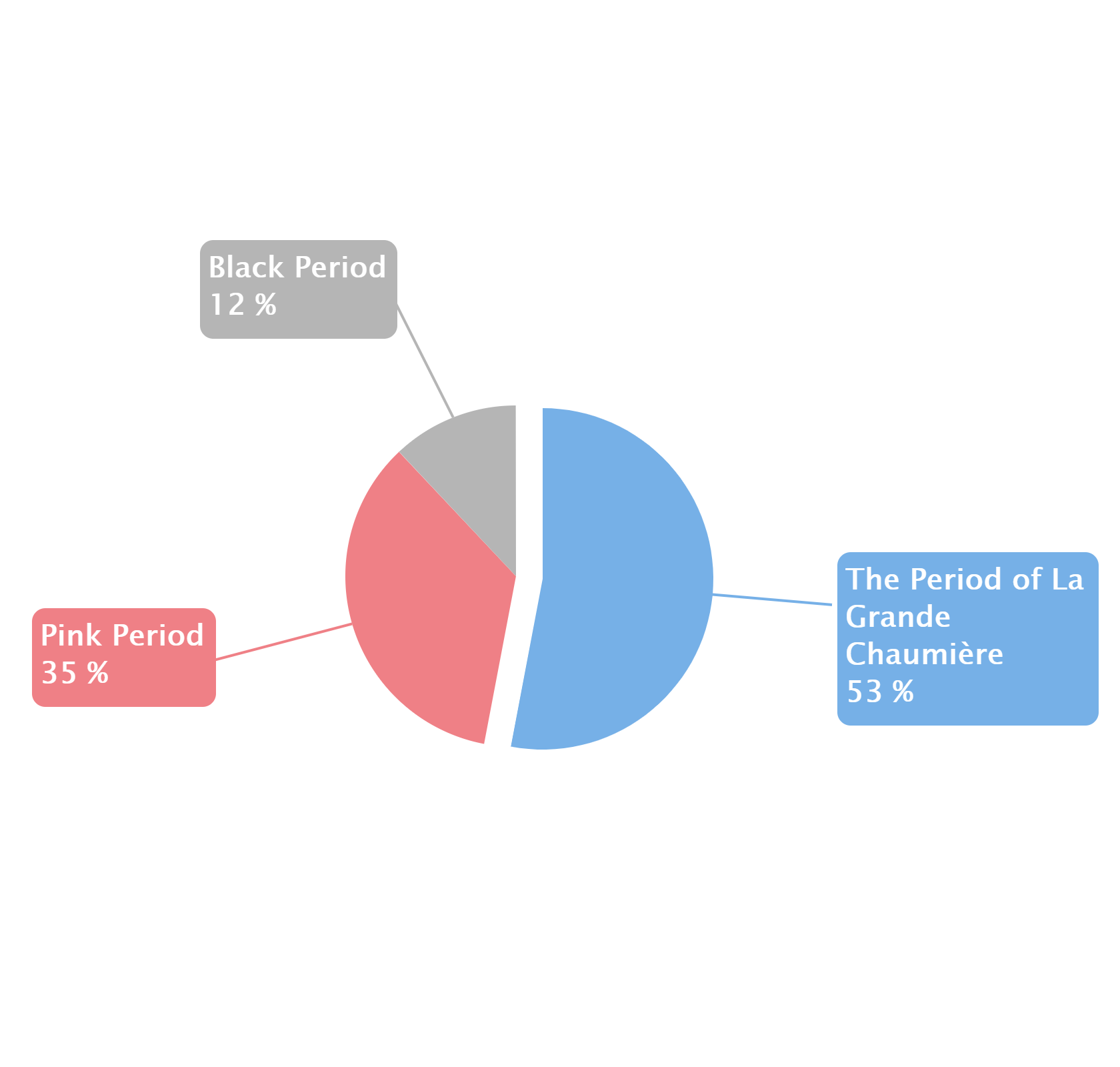 2010-2019:Proportion of the deal volume of nude women works
2. Pink Period (1930s-1940s)

In the 1930s, San Yu entered the Pink Period. The composition of the picture, the folk pattern and the use of color are all covered in the pink dream. In this period, San Yu's paintings are composed of pink, white and black tones. The pictures are vivid and straightforward. The light and elegant tone weakens the intense contrast color of Fauvism, but expresses emotion and tension. In the 1930s, San Yu mainly drew human bodies, sketches and watercolor figures; later, he began to focus on creating oil paintings of the human body, flowers, animals and landscapes. San Yu's printmaking works also came out in large quantities at this stage. He made printmaking illustrations for Les Poèmes De T'ao Tsien and began to advance in the field of sculpture.
The turnover of works with bonsai theme contributed the most, followed by those of animals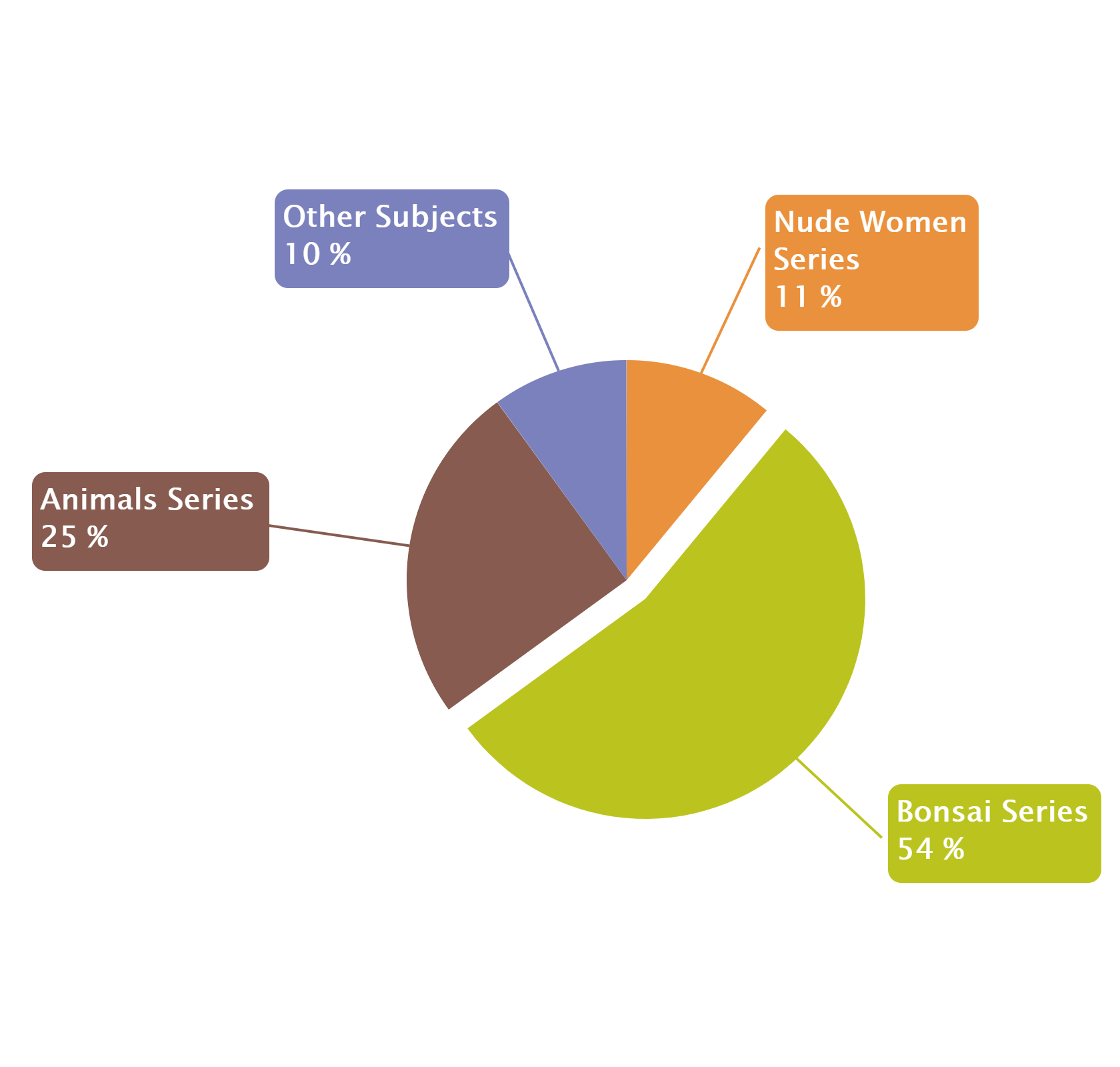 2010-2019:Proportion of turnover of works with different themes in Pink Period
3. Black Period (1950s)

In his later years, San Yu lost his patronage and lived in poverty. He occasionally relied on his friends to help him sell paintings for a living, which had a profound impact on his works. In 1950's, San Yu replaced the regular and high-cost oil painting cloth with cheap wooden plywood and polymer plate, and even replaced the raw materials with paint (this made the picture seriously peeled off later, which also became a major feature of San Yu's oil painting in his late time). During this period, San Yu used a more simplified rough black line surface to draw. The lines of calligraphy were distinct, the colors were gradually simplified into three primary colors, and the shapes of the paintings were round and thick. In the auction over the years, the black period is dominated by paintings. In 2019, the total turnover of San Yu's works was nearly $110 million, among which the turnover of works in the Black Period reached an unprecedented peak. Two masterpieces of oil painting that have made a lot of market attention, the NU (1965) and the Five Nudes (the 1950s), are the Black Period's masterpieces.
The main contribution of the turnover is the works with the theme of nude women and bonsai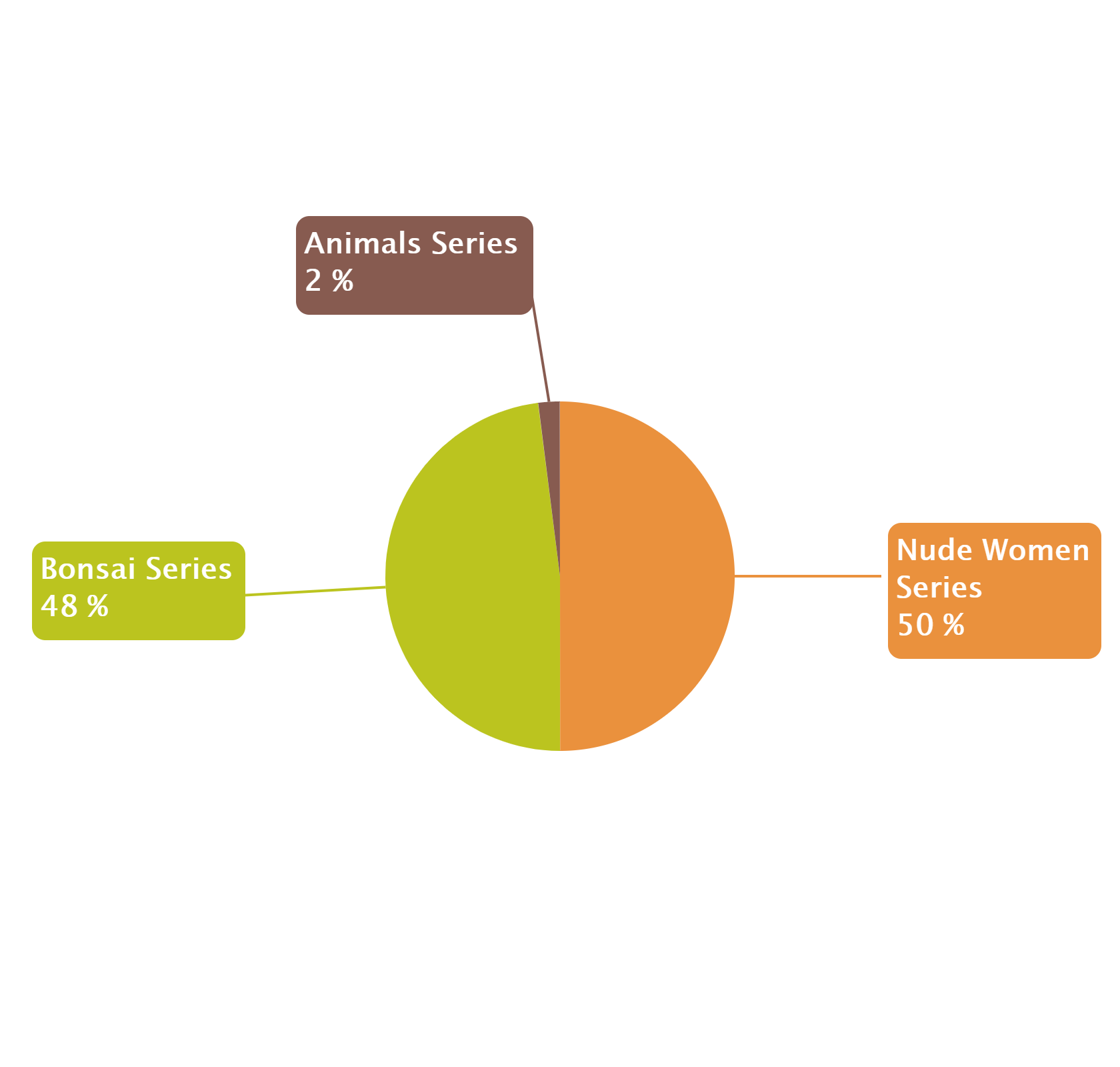 2010-2019:Proportion of turnover of works with different themes in Black Period

San Yu had more than 30 recorded exhibitions, most of which were art salons in Paris and few individual exhibitions. In 1966, San Yu died in Paris. Subsequently, more than 40 exhibitions can be counted, no less than 10 in museums and art galleries. Taiwan is the most concentrated area of individual displays. According to public data, San Yu has at least 32 publications. Auction houses, galleries, museums in France and Taiwan, and Taiwan foundation are its main publishing institutions. In 2001, 2011, 2015 and 2017, the Taiwan Foundation for youth culture and education, a legal entity, published the Complete Works of San Yu's Oil Painting, the Second Volume of the Complete Works of San Yu's Oil Painting, the Complete Works of San Yu Sketches and Watercolor Paintings and the Complete Works of San Yu's Printing, gradually covering the all types of San Yu's works and systematically combing San Yu's works.

The ups and downs of his legendary life, his fame of indulgence in beauty, the unconventional art concept ,and the unique style of artworks have made San Yu never fail to fascinate people. Without doubt, he is a special existence in the auction field.
Click on the image to get the overall data of San Yu, from which you shall have more comprehensive and in-depth understanding of the performance of the artist in the secondary market.