TOP 10 "Surprising Hits" of 2020 at auctions, please check out!
Out of the ordinary, an unknown coronavirus COVID-19 has swept across the globe since the beginning of 2020, and many countries around the world have declared a state of emergency. Art market has also suffered, with museums facing budget deficits and numerous exhibitions as well as auctions shut down.
The epidemic "Black Swan" is scary, but there lies surprising opportunity in the crisis. Focusing on the auctions with hammer dropped in 2020, it is not hard to find that some of the lots are on world's top list due to their high prices; others largely exceed the market estimate – though not commanding the dominant high price point, they've been auctioned fiercely by the collectors, with some even setting new highs of the artists at one stroke, and becoming the "Surprising Hits" at the current art auction market!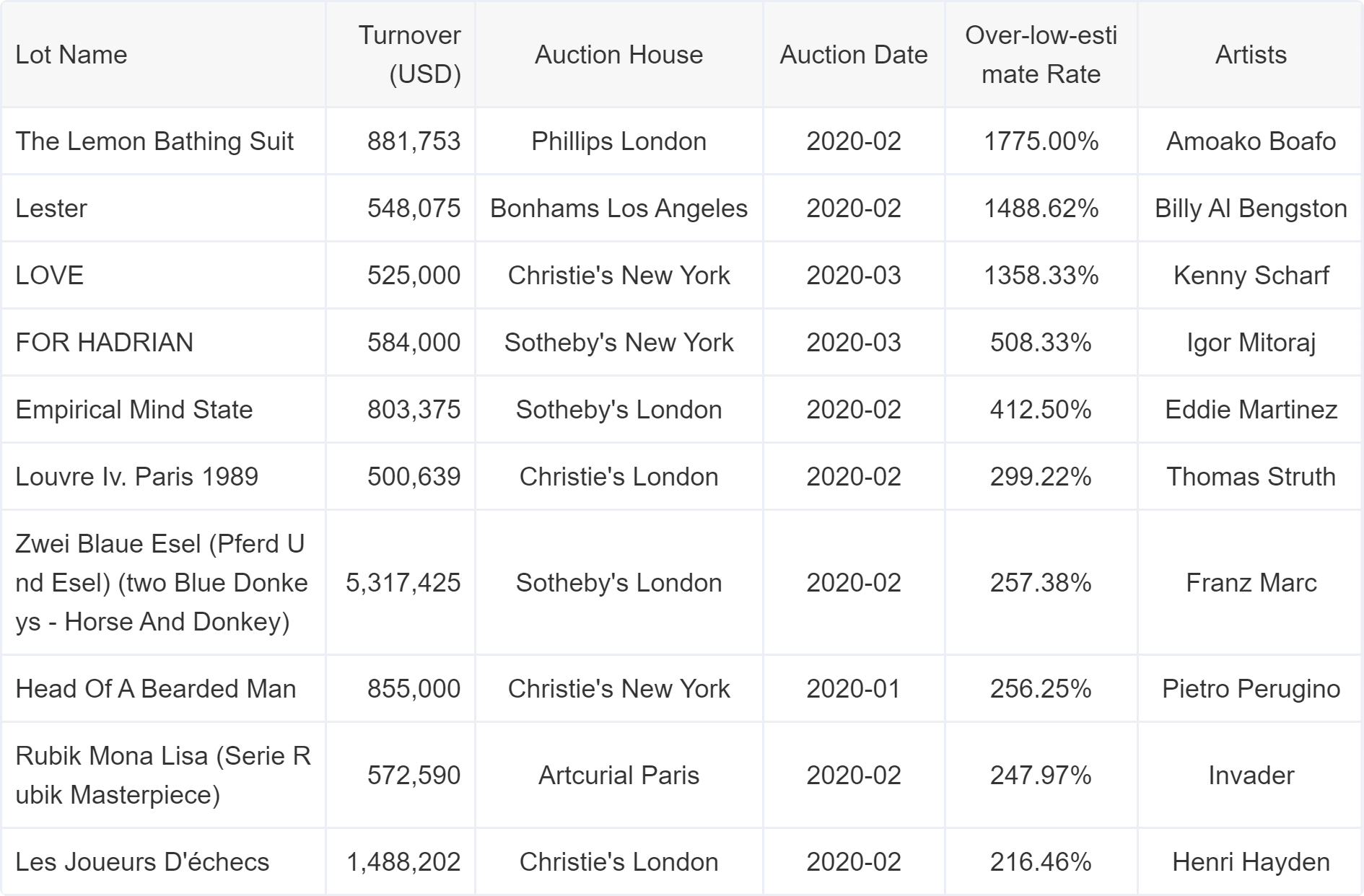 10 Selected Highlight Lots Sold Exceeding Estimate Price in 2020
ArtPro has selected 10 out of the lots worth more than $500,000 for you (see table above, ranking according to the over-low-estimate rate). They're going to be introduced in the following part one by one, from which we hope collectors may get valuable information.
HOT1 Amoako Boafo's Debut: Over-low-estimate Rate to 1,775.00%
On Feb. 13th, The Lemon Bathing Suit by Amoako Boafo on Phillips London Evening Sell with an estimate of £30,000-50,000 sold for £675,000! This was the debut of Amoako Boafo's work, and the artist went directly into evening sell. The painting was bought by a buyer at very low price in last June, but within a year the price has soared by 30 times since it entered the secondary market for resale.
This oil painting is a new work painted in 2019, with bright colors, soft strokes, and stylistic characteristics. In the picture, a grey-haired black woman with red lips lies peacefully on something floating in a swimming pool; she wears sunglasses, and white one-piece bathing suit with green leaves and lemon prints.
Amoako Boafo, born in 1984, has just started out, yet quickly cause a sensation in the market. He was represented by Mariane Ibrahim Gallery in 2018 and Roberts Projects in 2019. Also, in 2019, he became the first artist-in-residence of Rubell Museum in Miami, and won STRABAG International Art Award in Vienna.
In December, 2019, Mariane Ibrahim Gallery made its debut at Art Basel Miami Beach, exhibiting Boafo's works for the first time. At the end of the expo, it's reported by the gallery that the entire booth was sold out, with prices ranging from $15,000 to $45,000 – a sign of love and approval from collectors to Amoako Boafo. This time, Amoako Boafo's debut at auction scene brought £675,000, reaching an over-low-estimate rate of 1,775.00%, reflecting the market's fanatic pursuit for his works.
HOT2 Billy Al Bengston Breaks Record: Over-low-estimate Rate to 1, 488.62%
Billy Al Bengston, an American contemporary artist and sculptor, whose work Lester led the Post-War & Contemporary Art section of Bonhams Los Angeles' on Feb. 15th, breaking the artist's personal auction record.
The 1960s is a crucial period in Billy Al Bengston's career. Lester, painted in 1961, is a pivotal one. This work owns a universal artistic symbol of Bengston's works - circle. Fascinating colors emanate from the concentric circles, creating a mesmerizing appreciating experience.
It's estimated for $30,000 - $50,000 by Bonhams, a relatively highly valued work of Bengston's. The work was finally sold for $550,000, 18 times more than its low-estimate price. It not only made Billy Al Bengston's new high, but also achieved almost 4 times of the highest price (record in 2013), and with a most high over-low-estimate rate of artists in the secondary market at present. In addition, another work at the same auction of Bonhams' with Lester also brought the hammer down higher than the estimate price.
HOT3 Kenny Scharf Breaks Record: Over-low-estimate Rate to 1, 358.33 %
Kenny Scharf, an American painter along with Jean-Michel Basquiat and Keith Haring, elevated New York street graffiti into the realm of art in 1980s. At Christie's New York on March 5th, Kenny Scharf's LOVE sold with an over-low-estimate rate of 1,358.33%, breaking the record set by itself at Christie's 3 months earlier.
Kenny Scharf has portrayed the Flintstones' cartoon figures Fred Flintstone and his wife as snail creatures gazing lovingly into each other's eyes with acrylic and spray paint. The work conveys unique energy and vitality, and demonstrates the influence of street culture in contemporary art. The estimate was in the reasonable range of Kenny Scharf's works, while the turnover was much higher than expected, surprising the market.
HOT4 Igor Mitoraj Breaks Record: Over-low-estimate Rate to 508.33 %
Polish sculptor Igor Mitoraj is famous for his public sculptures. His giant, broken head sculptures are permanently settled in museums and parks around the world.
Igor Mitoraj applies classical techniques to give sculptures a modern perspective. The bronze sculpture in huge size sold on March 6th in the Contemporary Curated special section of Sotheby's New York exceeded the over-low-estimate price by 7 times, performing incomplete perfection.
HOT5 Eddie Martinez's Masterpiece in Large Size: Over-low-estimate Rate to 412.50%
Eddie Martinez, who set new personal record several times in Hong Kong last year, whose work created in 2009 Empirical Mind State sold for £615,000 in London, updated his TOP 2 list, and it was also the most expensive work he has sold in London.
From popular urban culture to abstractionism and surrealism, Martinez managed to blend the tradition of American graffiti with the energy of the street. Jumping bright colors leave people with strong visual impact, while the willful lines are bold and unrestrained as the splattering ink – on large size canvas, they orderly interweave and fuse. Childish-like images including potted flowers are full of dynamic and vitality of life. Since 2020, Martinez has his 15 works under the hammer and sold, five of which have made it to his personal TOP10.
HOT6 Thomas Struth's Photography in Large Size: Over-low-estimate Rate to 299.22%
Thomas Struth, a photographer made great contribution to German photography in 190s. His Museum series are the best known works. On Feb. 13th at Christie's in London, the large-sized Louvre Iv. Paris 1989 brought a turnover 5 times more than its low-estimate price.
The artist once said, "Museums are always crowded, driving me to wonder what people are looking for in front of these historical paintings." Thomas Struth combines the audience's appreciating moments with historical paintings - actually a reflection on the different roles of art and the way people experience historical paintings in museums.
HOT7 Two Blue Donkeys: Over-low-estimate Rate to 257.38%
Franz Marc, one of the greatest painters of the 20th century, likes to put animals as symbols of primitivism and purity. His Zwei Blaue Esel (Pferd Und Esel) (Two Blue Donkeys - Horse and Donkey) at Sotheby's London on Feb. 4th attracted buyers' fierce competing once the bid started. The work brought over 4.07 million pounds, with an over-low-estimate rate more than four times.
Mark believes that animals and nature coexist in harmony, and he often creates with the theme of animals. In 1911, Mark and his fellow artist Wassily Kandinsky organized an artistic group named Blue Knight. The work above was exhibited in the second Blue Knight Exhibition after its first appearance in 1912, and has been exhibited in many museums and galleries.
HOT8 Old Master's Paintings on Paper: Over-low-estimate Rate to 256.25%
On Jan. 28th, at the special section Old Master & British Drawings Including Works from the Collection of Jean Bonna of Christie's New York, Head Of A Bearded Man, the work of Italian painter Pietro Perugino, sold for $855,000, becoming the second high work at the auction.
With silver-point technique, the artist did personalized head study of the character. He detailed the man's facial features as well as his eye sockets and beard. His clear outline and exquisite pen strokes indicates the extraordinarily superb painting skills that Pietro Perugino owns.
HOT9 Mona Lisa in Magic Cube Version: Over-low-estimate Rate to 247.97%
Paris, Feb. 23th – on Urban & Pop Contemporary section of Artcurial, French street artist Invader's Rubik Mona Lisa (Serie Rubik Masterpiece) sold for €482,200, updating her TOP2 list at one stroke. The work is made up of 330 Rubik's cubes and was estimated between €120,000 and €150,000 before the auction.
The anonymous artist left a variety of mosaics on the streets of Paris, often in hidden but somehow always noticeable places. The idea for the work originated from video games, of which some images are not easy to read. Created in 2005, Rubik Mona Lisa (Serie Rubik Masterpiece) is a pile of massive cubes and colorful stacks when you see it in close distance, but the image of Mona Lisa is easy to recognize as you step further. The auction coincides with a special exhibition at the Louvre in France marking the 500th anniversary of Leonardo Da Vinci's death. Before that, Invader's TOP1 and TOP2 works were both sold in 2019, and TOP1's turnover reached 12.2 times of the pre-auction low-estimate price.
HOT 10 Henri Hayden's Oil Painting Breaks Record: Over-low-estimate Rate to 216.46%
At Christie's London, Feb. 6th, the Polish Jew painter Henri Hayden's oil painting Les Joueurs D'échecs estimated at £300,000-500,000, finally sold for nearly 1.14 million pounds. Its high price takes the lead, reaching nearly 1.5 times of the second high in the same auction.
Henri Hayden moved to France in 1907, absorbing the cubism in a few years and digesting all the French paintings, becoming a prominent cubist painter. He held his first personal exhibition in Paris in 1911; in 1912, Paul Cézanne left a profound influence on him. Painted in 1913, this richly colored work of chess game in a café is a metaphor of the anxiety that many foreign artists felt when they arrived in Paris. Despite that Christie's has already given a high estimate beforehand, but it still dropped the hammer exceeding the expectation, setting Henri Hayden's new high at one stroke!
Sum up the Present, Look into the Future
Some artists have become the key stand in the auction world, owning the works with household names; some, on the other hand, start to enter the auction market after establishing a firm foothold in galleries and expositions, receiving strong market demand. No matter the residual temperature or the spreading fire - the transaction trend of art works has released signals for the market in the coming future. In times of contagion-war, it is better to be result-oriented while analyzing the future. ArtPro will continue to dig information from the big data of massive auctions, helping collectors to bid your beloved selections, please stay tuned!