Is it a sign of a Great Eruption? Black Horse in 2019 brings another boom in 2020
Eddie Martinez is quietly creating miracles in his way.
Eddie Martinez is a new star sought after by new generation of collectors in Asia in 2019, whose performance of auction can be described as rapid progress. In 2020, within three months, Martinez has become the focus of black horse artists in the art world.
1977 -
He is not only quietly surpassing his personal record on top list, but also creating his own miracle in the field of contemporary art. Is it a Continuation of Glory or a Sign of a Great Eruption? Let's explore the market dynamics of Eddie Martinez with ArtPro's data.
Part I: In 2020, the Momentum of the Popular Black Horse Artists will Continue
Trend 1: 6 Years 11 Times, New High in 2019 and Ready for 2020
Although it is only three months since 2020, the total turnover of Eddie Martinez has reached more than half of that in 2019. The total turnover in 2019 exceeded a million dollars for the first time. In the first quarter of 2020, it has reached 4.5 million dollars. It is expected that good works will yield great harvest.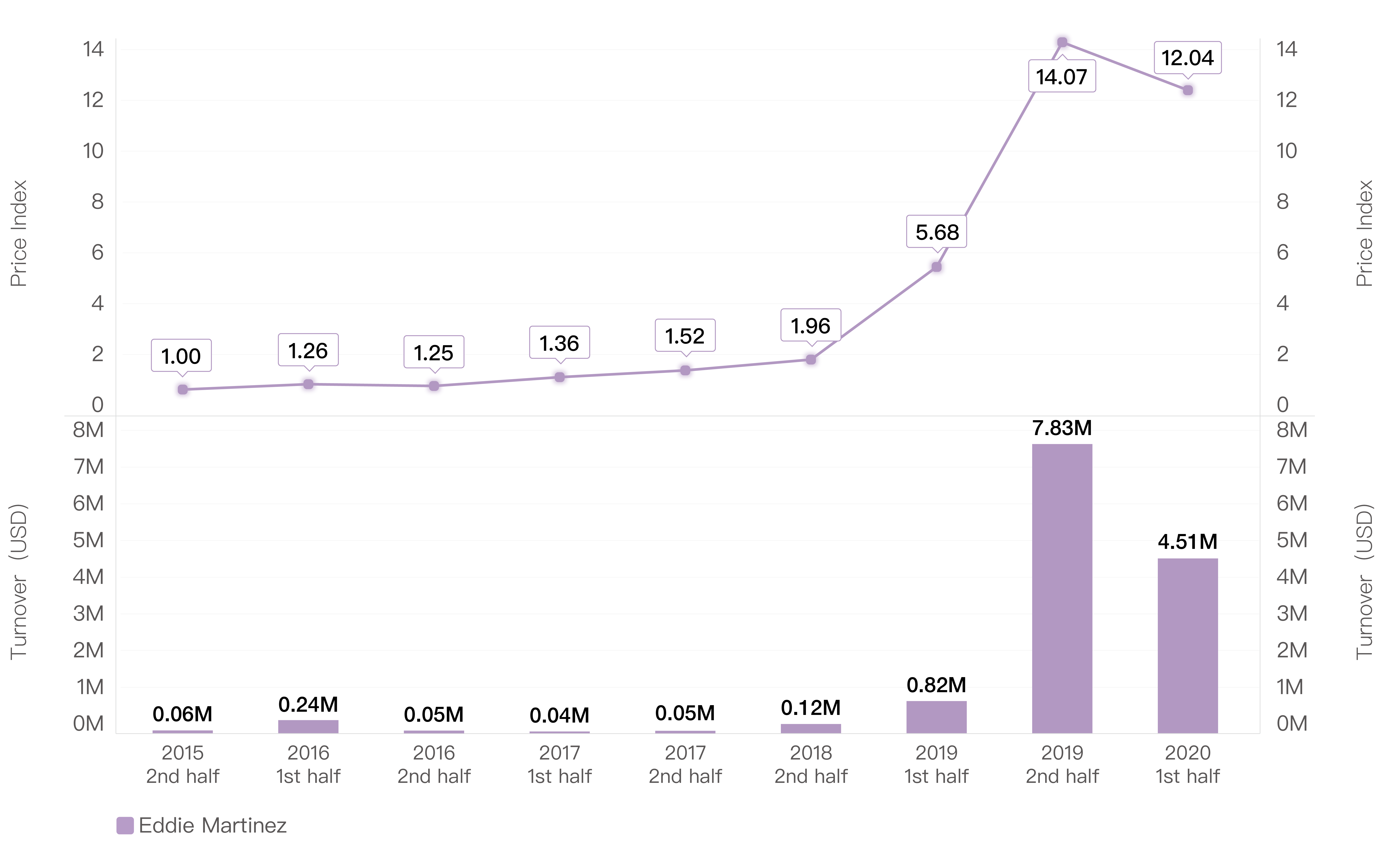 The total turnover and Price Index
From the ArtPro Price Index, based on the data of 2015, the price index soared to 14.07 in 2019, reaching the highest record in history. Eddie Martinez in 2019 is a well-deserved black horse in the market. Up to March of 2020, without the Spring Auction scheduled in Hong Kong, Eddie Martinez's price index remains high according to his performance in Europe and USA. All his 15 works on sale were sold, and the market performance after the first quarter is more exciting.
(Note: ArtPro Price Index is an important reference to reflect upon the change of artist's price level.)
Trend 2: Top 10 in 2019, Top 5 listed for Five Times in 2020 in the First Three Months
During the first quarter of 2020, Eddie Martinez has given his benchmarks in the art market by refreshing his personal Top 10 list five times. So far, Top 2, 6, 8, 9 and 10 of Eddie Martinez's works have been sold during the first quarter of 2020, and the deals are all beyond estimate prices. The market keeps giving positive responses to his works.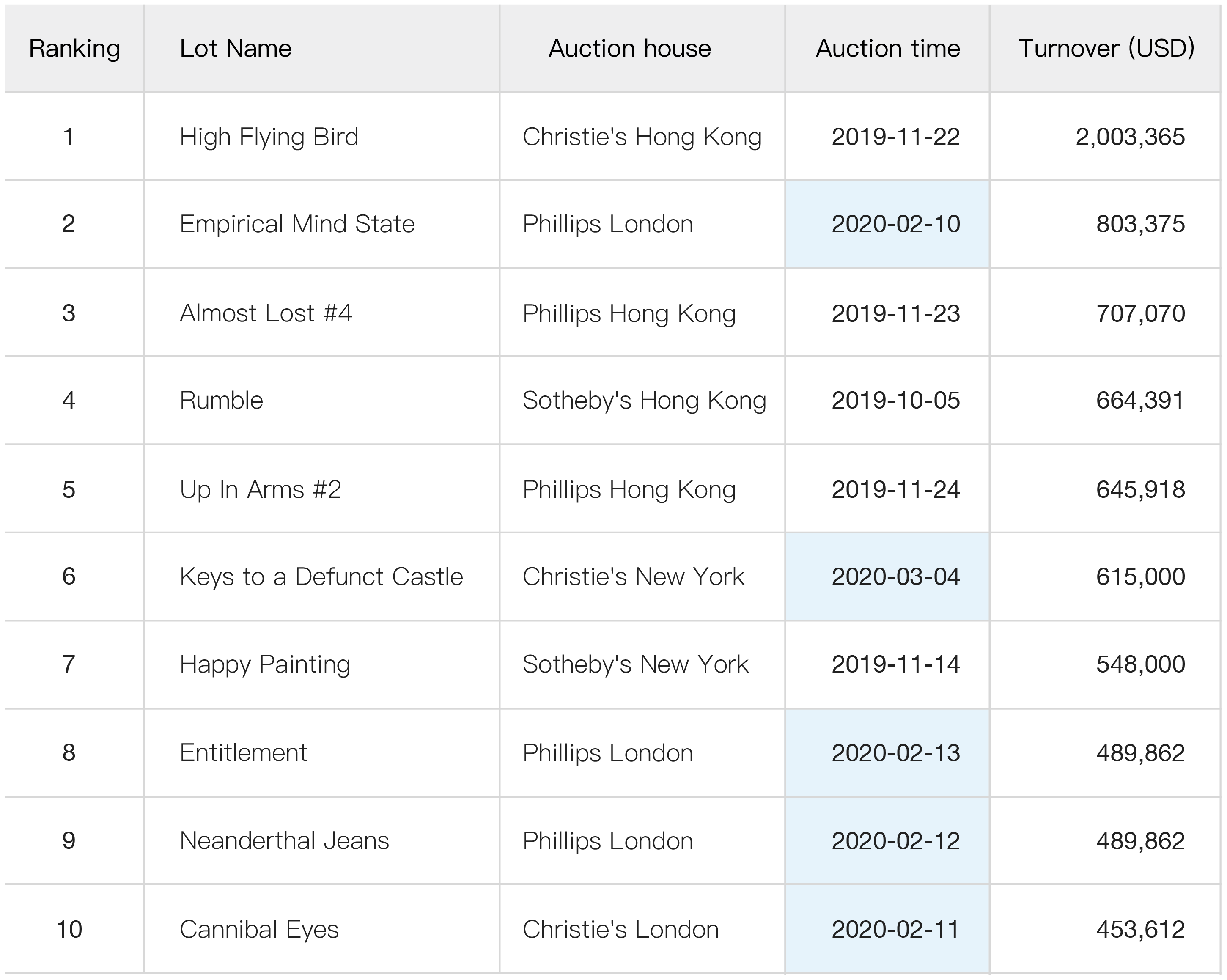 Top 10 by 2020
Among them, Empirical Mind State was sold in Sotheby's London for $803,374, with an over-low-estimate rate of + 412.5%, becoming the work of top2.
However, Eddie Martinez's auction record is not a sudden rise, as early as 2019, whose excellence is hard to ignore, repeatedly setting personal milestones. Eddie Martinez's Top 10 works by 2019 are all listed in the year of 2019.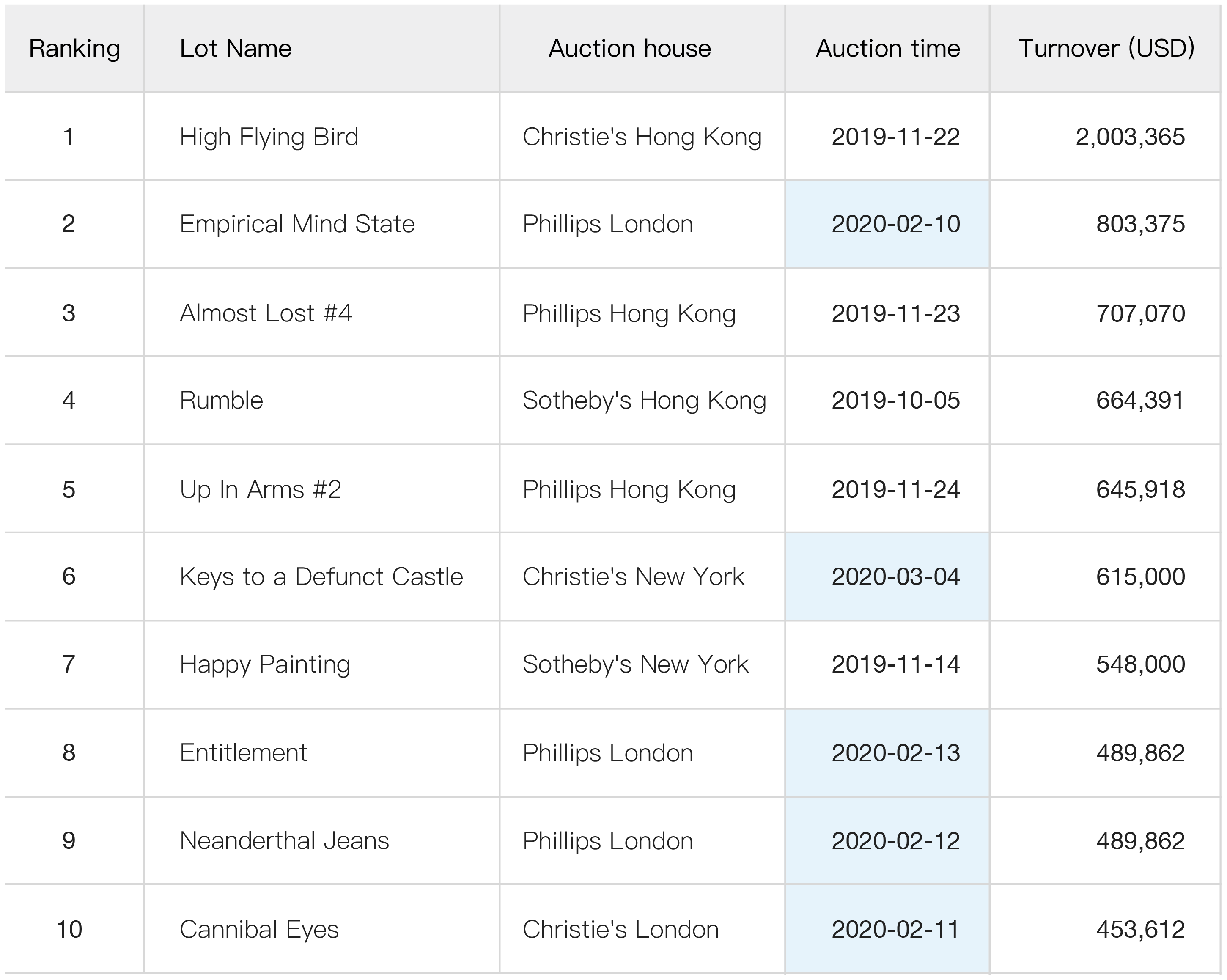 Top 10 by 2019
As early as the Spring Auction in May 2019, Eddie Martinez's works set off fierce bidding in the auction field. The personal auction record has been broken three times in one day at Phillips. Finally, Untitled became the top 1 at that time with a turnover price of 318,500 US dollars. Then in the autumn auction in Hong Kong in October, Sotheby's continued to push the record to 664,000 US dollars. Finally, on November 23, with a record of over two million dollars, High Flying Bird, became the top 1, greatly breaking the previous auction record, and Eddie Martinez's works entered the list of million dollars for the first time.
Trend 3: Impressive World Ranking of Total Turnover
Eddie Martinez's world ranking has risen rapidly over the past two years. In 2018, the global ranking was 474.22, and in 2019, it has jumped to 198, and 38 as of today in 2020. This shows that in the past two years, whether it is the strength of artists or the praise of the market, it has a strong potential.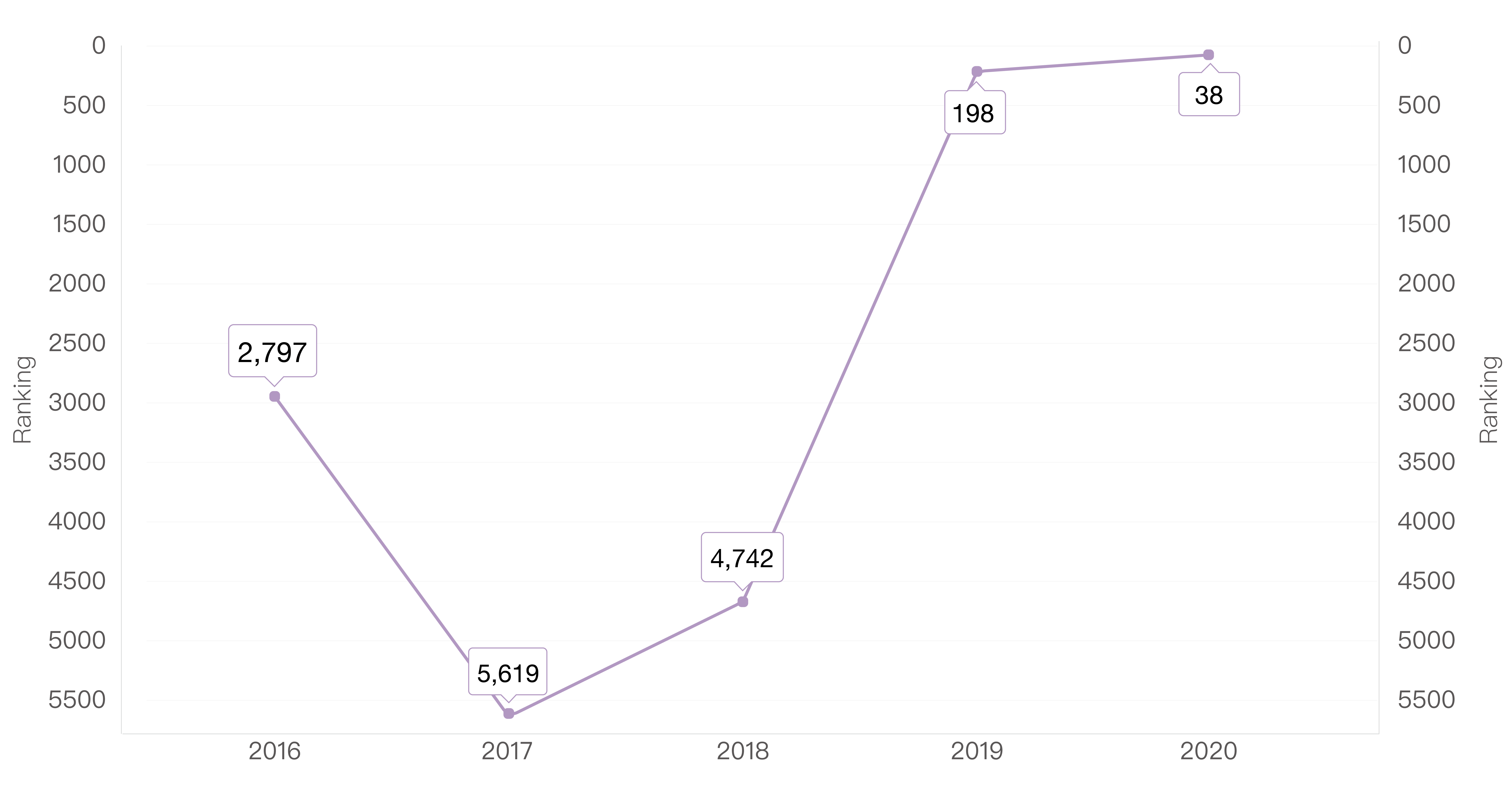 Eddie Martinez's World Ranking of Total Turnover
Part II: In the World of Collection Investment, Market Competition is Becoming Hotter and Hotter
1. The Development of Hong Kong Market Plays a Key Role in the Internationalization of the Works
According to the regional distribution of the turnover of Eddie Martinez's Top 10 works, its main trading market is Hong Kong, followed by London and New York. In 2019, Eddie Martinez's total turnover in Hong Kong reached nearly 6 million US dollars, 7 out of his Top 10 works were all sold in Hong Kong, showing his popularity with Asian collectors.
It is worth mentioning that Eddie Martinez also wins good start in short-term 2020 European and American spring auctions, four out of the five new Top 10 works in 2020 were sold in London and one in New York, after that the proportion of the "Top 10 distribution" in Europe and the United States has been increased. It reflects that Eddie Martinez's influence in Europe and the United States is gradually increasing, and gradually gaining international recognition.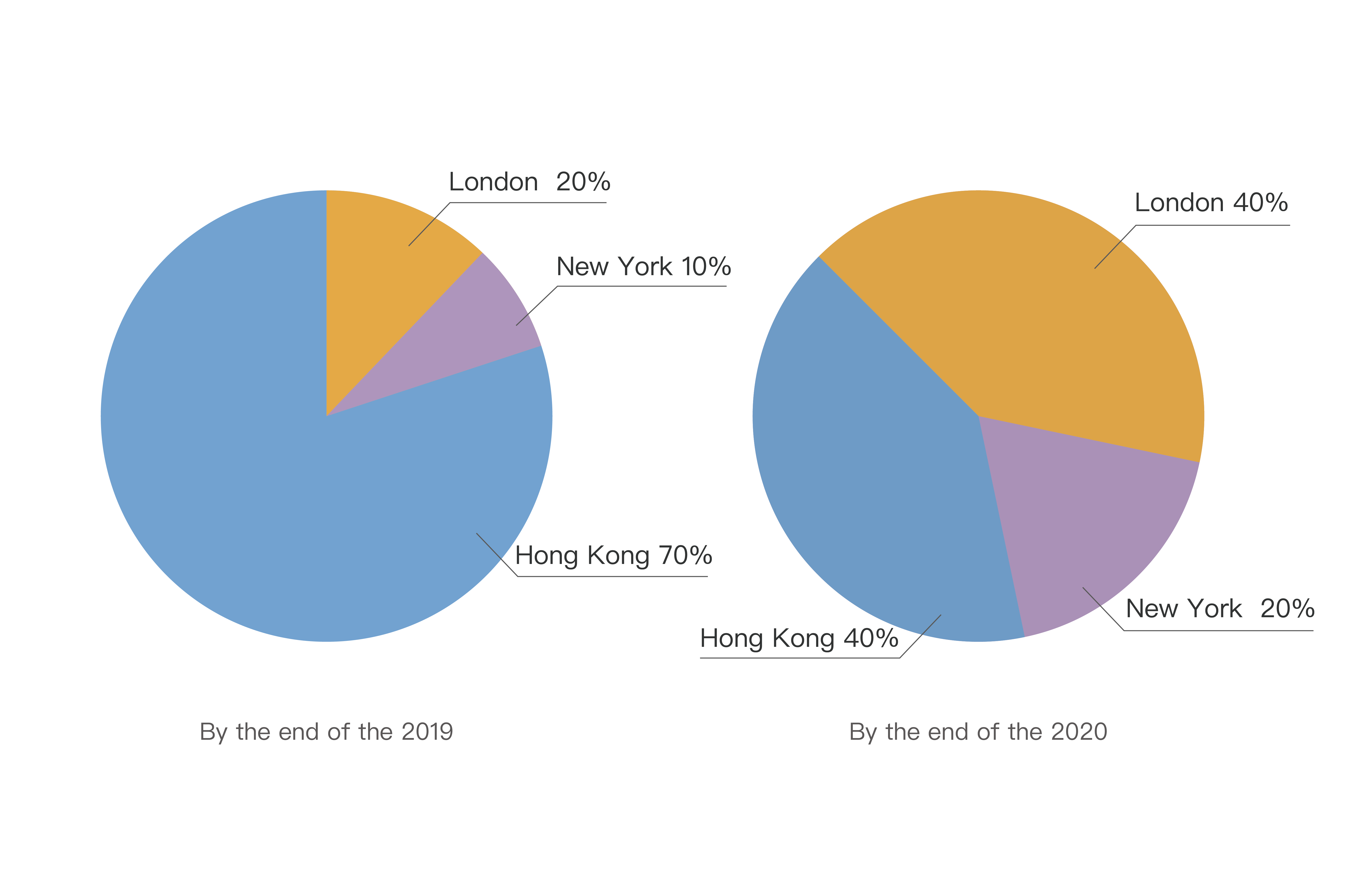 Regional distribution of Eddie Martinez's TOP10 Works
From the two dimensions of turnover and uptake in 2016 to 2019, Eddie Martinez in London and New York in 2019 have both reached a record high. From the Spring Auction in 2020, though it is only less than three months, the total turnover of Eddie Martinez in London and New York has exceeded that of the whole year in 2019.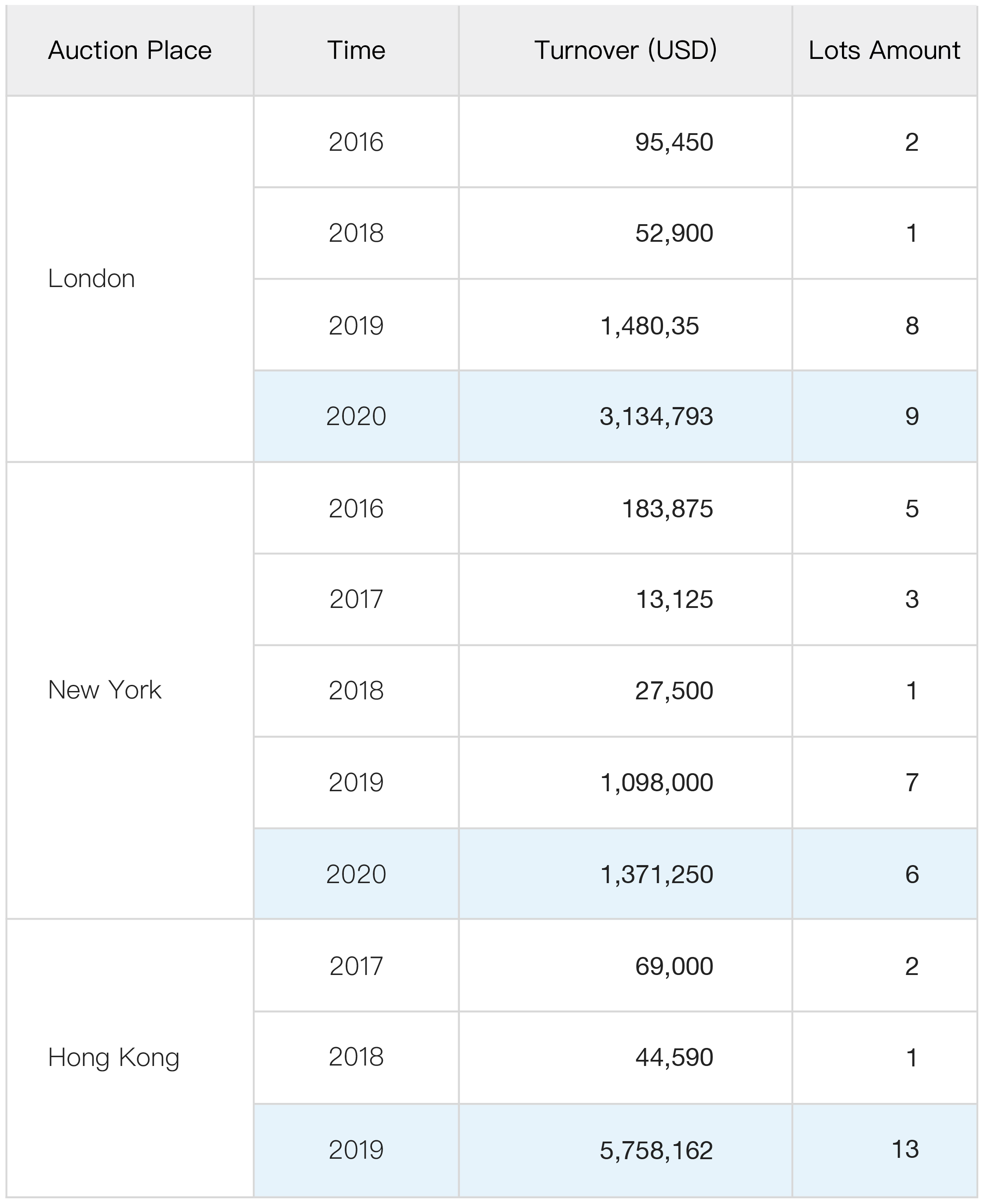 Transactions in three major auction markets in 2016-2020
2. Over-low-estimate Rate and Over-high-estimate Rate
Each of Eddie Martinez's works presents a unique artistic language. The frank style of painting, rich and bold materials, amorphous shapes and color blocks, and imaginative themes seem to hide his logo. This is not only his personal DNA, but also his favorite symbol of collectors.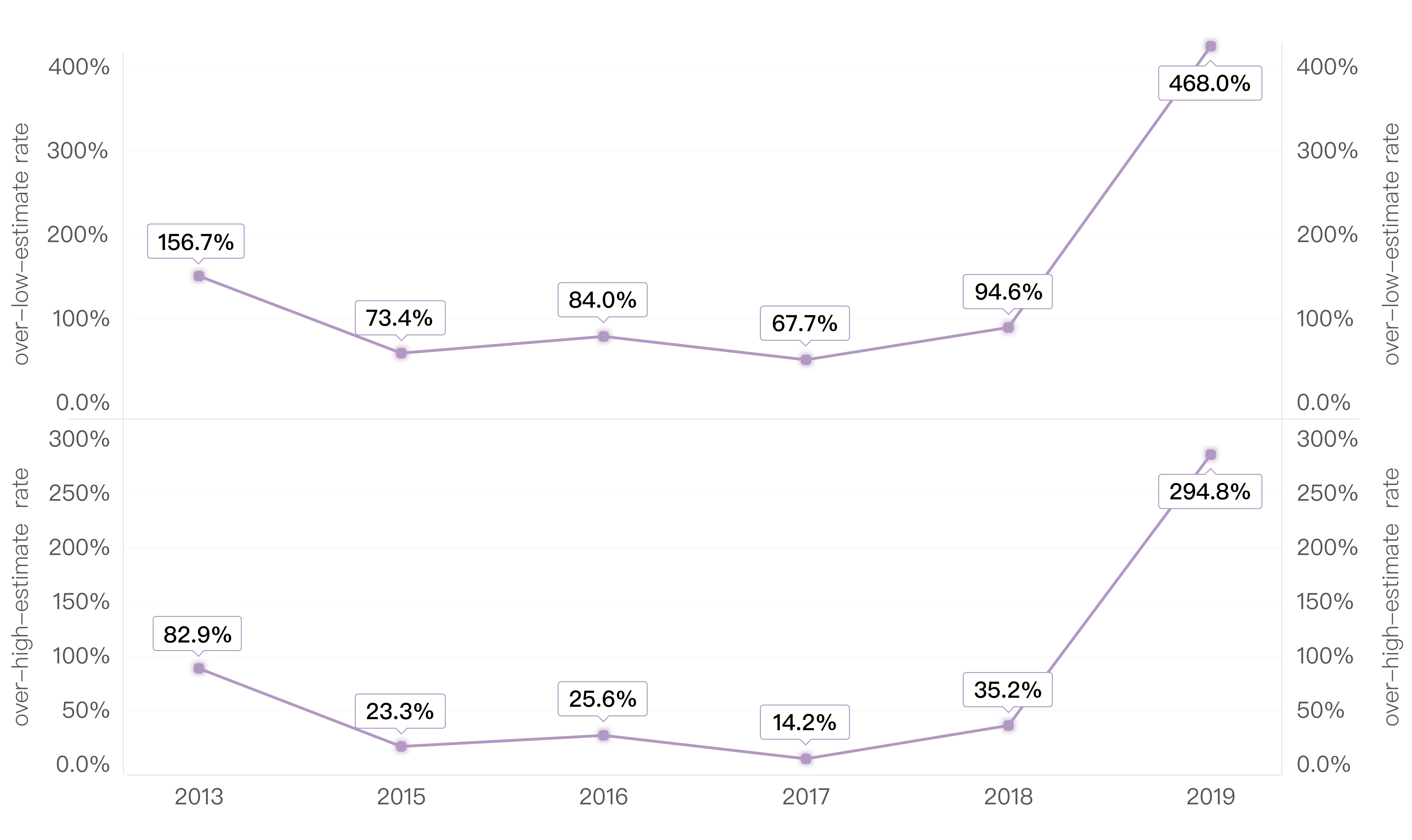 over-high-estimate rate and over-low-estimate rate
Therefore, both the over-low-estimate rate and over-high-estimate rate of Eddie Martinez's works are very high. In 2019, the average over-low-estimate rate of all works is as high as 468%. It can be seen that the collectors' market prospect of his works is good, and the market demand is in short supply.
Eddie Martinez's highlight is not a flash in the pan, the potential market is gradually breaking out. In the years to come in 2020, we expect him to bring more excellent works to all collectors and contemporary field of art.